Germans Charge Edith Cavell with Aiding Enemy;
Ignore Appeals for Mercy.
Special to The Great War Project.
(2-5 October) The British nurse, Edith Cavell, sits in a German prison in occupied Belgium, awaiting her fate.
According to numerous accounts of her case, Cavell, a British nurse working in Belgium when the war breaks out, is arrested in Brussels by German authorities in August 1915. She is charged with illegally aiding British and French soldiers to flee German-occupied Belgium and to reach the Netherlands, which is neutral.
Cavell is a secret participant in the elaborate underground railroad shuttling British and French soldiers and civilians out of Belgium to safety. She helps them acquire false papers and money, as well as guides to get them safely to the Dutch border.
Cavell's home in Brussels is a crucial stop on the way to freedom. She is in violation of German military law. Outspoken and increasingly well-known, Cavell attracts the attention of the German army.
She is arrested a little over a century ago, on August 3, 1915, and charged with harboring Allied soldiers. She is betrayed by a French collaborator with the Germans. In depositions before her court-martial, she confesses to aiding about sixty British and fifteen French soldiers to escape from German-occupied Belgium. She also confesses to aiding more than one hundred civilians of military age.
Cavell faces a German court-martial on August 23rd. The German charges focus specifically on those soldiers whom she aids to pass through Holland and who reach Britain.
In German military law, that is a much more serious crime than harboring enemy soldiers and helping them reach neutral territory.
According to German military law, the punishment for Cavell's actions is death.
The British can do nothing to help her. "I am afraid," said one British official in the Foreign Office, "that it is likely to go hard with Miss Cavell. I am afraid we are powerless."
"Any representation by us," said the British Under-Secretary for Foreign Affairs, "will do her more harm than good."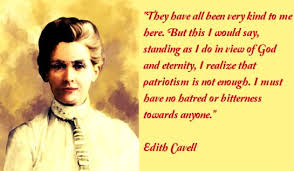 After her trial before a five-man military tribunal, Edith Cavell's fate becomes a matter of concern far from the battlefields of Belgium.
The United States uses its limited diplomatic pressure to urge the Germans not to carry out the execution. A senior US diplomat at the American legation in Brussels writes that Cavell's "murder…would stir all civilized countries with horror and disgust."
One German diplomat responds that his only regret — that they had not "three or four old English women to shoot."
Some German officials do urge mercy in Cavell's case, especially aware that in her capacity as nurse, she has saved many lives, including wounded German soldiers.
Other Germans advocate her quick execution so as to prevent growing condemnation of Germany around the world.
The Germans set October 12 as the date for Edith Cavell's execution by firing squad.