Enter the Four Minute Men
Campaign Against 'Sedition;
Anti-War Protesters Face Possible Prison.
Special to The Great War Project.
(28 May) Two months after President Woodrow Wilson's call to arms and the entry of the United States into the Great War, "a patriotic state of mind was virtually non-existent in the U.S.," writes historian Adam Hochschild.
British agents in the U.S. reported back to London that the mood in the U.S. is hardly eager for war. "There is evidence," Hochschild reports, "that in many localities the people have only entered the war with reluctance and with a feeling of inevitability rather than with any enthusiasm."
In an exchange between Wilson's advisers – private secretary Joe Tumulty and confidante Colonel Edward House, "Tumulty nervously informed House that "the people's righteous wrath seems not to have been aroused."
"The widespread lack of enthusiasm observed by the British ambassador to the U.S. and intelligence chief was obviously not overdrawn."
What to do? It falls to a man named George Creel. Creel becomes President Wilson's propaganda chief. He develops many forms of pro-war propaganda. But perhaps the most influential is his creation of groups called the Four-Minute Men.
Creel declares with typical exaggeration, "the Four Minute Men had the projectile force of a French 75, the French army's favorite artillery piece."
The Four Minute Men engage in many forms of propaganda, but most effective are the speeches they give in thousands of movie theaters across the country.
The Four Minute Men are local orators who deliver four minute speeches in favor of the war either before or after the feature film. The speech is billed as "a subject of national importance."
The Four Minute Speech quickly catches on, and 75,000 Four Minute Men, according to historian Fleming, spread throughout  the country, delivering four minute speeches not only in film theaters, but in lodges and labor union meetings, church halls, lumber camps, and even Native American reservations.
The goal: to deliver, in Fleming's words, "white-hot war will." Their first topic focuses on "Universal Service by Selective Draft." The purpose is to infuse the concept of the draft with "moral uplift," writes Fleming.
And it isn't simply using patriotic rhetoric in this effort.
Fleming reports, "behind the patriotic rhetoric, a mailed fist was also at work."
In a town named Snyder, Texas, seven men are arrested at this moment in the war effort a century ago, and charged with seditious conspiracy for "planning to resist conscription by force."
Similar arrests take place in many states, including Michigan, Illinois, and Washington. Socialists, "anti-war to a man," were jailed in Detroit and Cleveland."
The campaign against this "sedition" spreads rapidly. "When two men tried to get a court order to prevent the governor of Missouri from enforcing registration, they also wound up behind bars."
"In New York three men were arrested for passing out anti-draft literature."
Reports Fleming, "two of them ended up in the federal penitentiary in Atlanta."
And on May 25th a century ago, the Los Angeles Times runs a headline: Death for Treason Awaits Anti-Draft Plotters."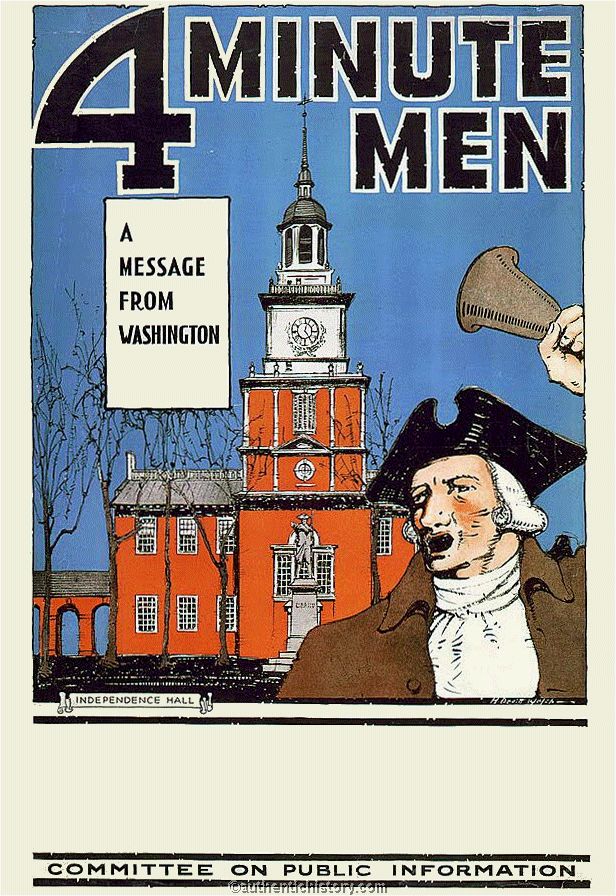 Very rapidly the mood across the nation turns poisonous, as the fear of the pro-war and pro-draft movements threatens to spark violence.
In Butte, Montana, demonstrators march with a huge red banner – "Down With War." According to historian Fleming, "they were confronted by local militia with fixed bayonets."
Shots are fired and arrests are made. The city is put under martial law.